Mr. Felix Choi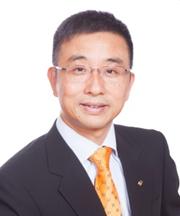 The mould and die sector is one of the cornerstones of industry, and good technology and good quality are crucial to it. Even highly industrialised developed countries rely on the mould and die sector for development. After many years of production, the standards of mould and die products in Hong Kong and on the Mainland are now approaching or have reached advanced international levels, and badly run or uncompetitive companies have failed and disappeared, leaving only companies which have a clear advantage in technology or customer base.
In 2016 the aggregate value of mould and die exports from China was 5.08% less than in 2015, but since the second half of 2016 exports from the Mainland and Hong Kong have stabilised. According to statistics from China Customs, mould and die exports from China in the first half of 2017 were worth USD $2,070,945,200, including injection moulds and stamping die moulds (along with parts) for use with plastics and metals. This was 11.13% above the same period in 2016. Although we have not yet returned to 2015 levels, the statistics show that the export situation has improved. As for imports of moulds and dies, there has been a slow decline since 2015, reflecting the gradual improvement in technology and quality in Mainland production, with less reliance on imports in consequence. The Chinabgao.com publication "The Mould and Die Industry in China 2016-2021: an Analytical Report on the Prospects for Market Supply and Demand" indicates that after a long period of development the mould and die industry is in a take-off period, and there is a good chance that the 400 billion barrier will be breached in the next 5 years.
In the last two years the mould and die industry has been in the front ranks for technological innovation. The main expressions of this include the wide-spread use of 3D printing in the manufacture of moulds, the introduction of smart features in moulds and the optimisation of large-scale plastic moulds, the maturing of large scale injection mould technology, and the refinement of standard components.
In the coming two years I shall continue to lead the members on our forward journey, improving the standard and efficiency of production technology and seeking new business opportunities through cross-industry co-operation.
One of the challenges we face at present is that, while raw material prices and the wage bill rise relentlessly, the prices of moulds and dies are falling, putting the industry under increased pressure. For this reason, our industry must continue to aim for high-end markets, creating high-precision and high-quality products with high added value. We should aim for the automobile, smart living and health-care markets, for example, and for the electronic consumer goods sector. At the same time, we must redouble our efforts to invest in new-style mould R&D and technology, and master the technology of new-style mould design and manufacture, along with smart management and automated control systems. This is the only way of opening up new markets and securing our position in the face of ever fiercer competition.
Mould and die manufacture is an important component of modern manufacturing, and also an important technological tool for industrial production and everyday goods, since advanced mould and die manufacturing technology provides a stimulus to other sectors. Moulds and dies also impinge on precision products and foundation industries in fields which include metals, machinery, chemicals, plastics, automobiles and electronics, where in terms of both the market and technology they are closely integrated components, so that progress on one side drives the other side forward. For this reason the mould and die companies in Hong Kong must get together with other foundation industries, to share resources, improve the exchange of technical information, technology and experience, and bring about joint advances in technology and capability, moving forward in step. For example, IOT technology, management technology and logistic technology can all be applied to mould and die manufacture. We are confident that by stimulating and inspiring each other, we can get the whole of foundation industry to "Go Global" at a faster pace and achieve prominence in the international market.
In the coming year the Council will continue its past practice of factory visit on the Mainland, to learn about their operating situation and real needs. We will also run cross-industry communication activities large and small, giving members the opportunity to exchange ideas about technology, the business environment and future industry trends with other sectors.
Last but not least, I would like to extend my heartfelt gratitude to fellow members for their unfailing support. It is an honour for me to serve the Council with Vice Chairman Mr Patrick Ho and the new Executive Committee in the 2017-19 term. During this term, the Hong Kong Mould & Die Council will ride the new wave to open up more opportunities for members. Although we may come up against new challenges, we believe we can definitely overcome them with our wealth of experience and that we can grasp opportunities with the unwavering support of the stalwarts in the industry.
Moving forward to 2018, on behalf of the Council, I wish all the friends and supporters in the industry will step forward to grasp every splendid opportunity and start a new chapter together.