Hong Kong Mould Die Council consists of expertise from diverse backgrounds inthe Industry. To stay connect with our members' news and the corporate events, please browse the following details and links.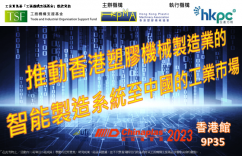 TSF Project: To promote the intelligent manufacturing system of Hong Kong plastic machinery manufacturers in China
If you may wish to acquire the service of Corporate Promotion above, please contact info@hkmdc.org.hk for more information.
*Promotion space is allocated on first come first served basis.